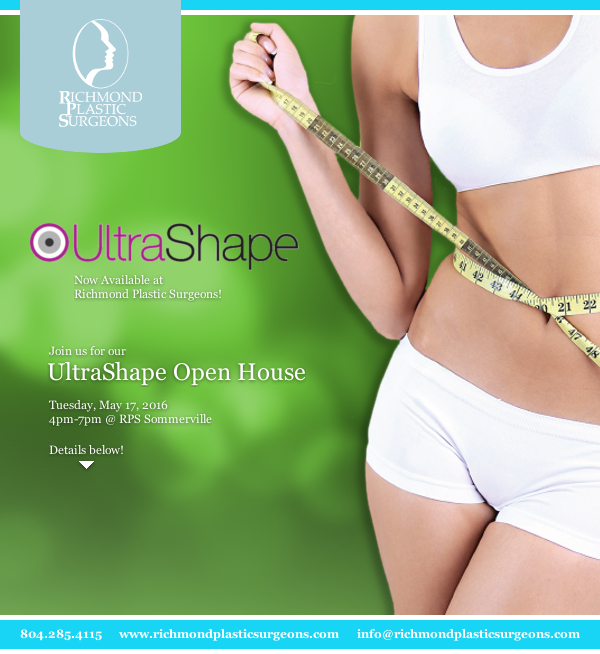 Don't miss our UltraShape Open House
Richmond Plastic Surgeons will be hosting a presentation on UltraShape on Tuesday, May 17, from 4pm-7pm. This event will be held at our Sommerville location:
Richmond Plastic Surgeons at Sommerville
14401 Sommerville Court, Floor 1
Midlothian, VA 23113
Details:
Space is limited and filling up fast!

There will be a raffle for a treatment. Bring a friend and double our chance to win.

If you purchase a treatment series during the open house, you will receive 3 Vela Treatments for free – a $1,500 value.
Call us today to reserve your spot!
---

What is UltraShape?
Our brand new UltraShape machine is the first and only FDA-cleared non-invasive body-shaping method that uses focused, pulsed ultrasound for selective fat-cell destruction.
UltraShape is completely non-surgical. No incisions, no anesthetics, and zero recovery time! This procedure is virtually painless and leaves no visible signs of treatment.
Click to visit our UltraShape information webpage or give us a call!

What is VelaShape?
VelaShape® is a non-invasive body contouring treatment for circumferential and cellulite reduction. Treatment typically consists of three sessions, though single-treatment protocol is also available. VelaShape® generates results without any downtime or significant discomfort. Look and feel more youthful!
Want to learn more? Give us a call!
Our Services
Our board-certified plastic surgeons will work closely (and discreetly) with you to provide services that are tailored to your specific needs.
Breast Enhancement, Reconstruction & Reduction
Body Contouring & Liposuction
Brazilian Butt Lift
Facial Cosmetic Surgery
Tummy Tuck
Cosmetic & Reconstructive Fat Grafting
Pediatric & Craniofacial Surgery
Botox, Juvederm, Voluma, and other non-procedure-based solutions
Call today to schedule a consultation!